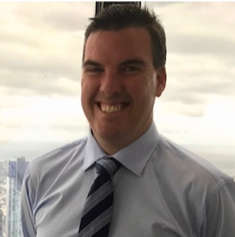 Michael Hamlin
Head of Business Deveopment
Michael is the Head of Business Development. With over 10 years of financial markets, treasury and banking experience he has a proven track record.  Michael has a great ability to share his enthusiasm for cash and fixed income investment products, helping take the complex and break it down into the simple for all clients.
Michael is responsible for developing key market relationships and covers the breadth of Laminar's products as well as assisting clients execute transactions in the cash and fixed income markets.
Joining the Laminar team in 2016, Michael's previous role was as Senior Manager, Treasury Funding at Suncorp Bank (Australia's 5th largest bank) where he managed a national portfolio of wholesale clients totalling $7.5 billion. Michael has extensive experience in relationship management and business development; servicing clients within the institutional, corporate and government sectors. Michael enjoys building long term business relationships and he takes great pride in providing value to his clients in order to help meet their financial needs and goals through tailored investment solutions.
Michael has a Masters in International Economics and Finance from the University of Queensland, a Bachelor Degree in Commerce from Griffith University, and a Diploma of Financial Planner (RG146 Compliant).